SBX Corporation Taxila - text analytics and intelligence platform

SBX Corporation (SBX), head-quartered in Tokyo, Japan, provides solutions to complex socio-industrial problems in biology and beyond, using Artificial Intelligence/Machine Learning, Internet of Things/sensor network, and model-based simulation techniques.
Activity Description
Through its proprietary platform technologies, SBX has a proven track record in the fields of drug discovery, healthcare and in areas beyond biology, including, but not limited to mobility, logistics, industry 4.0, and related issues that are critical to our society. One of the key platforms in the SBX portfolio is Taxila™ which provides a text analytics and intelligence solution to obtain contextual insights from text.
Taxila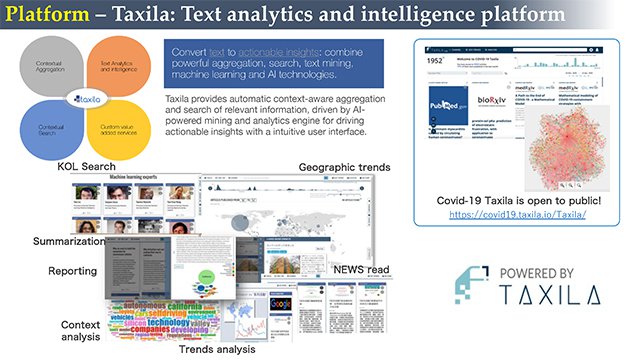 Taxila provides automatic context-aware aggregation and search of relevant information, driven by AI-powered mining and analytics engine for driving actionable insights with a intuitive user interface.