Shop
Efficacy Assays
Product category:
Efficacy Assays
Efficacy Assays
Biobide is specialized in developing zebrafish disease models to be used in preclinical stages for Drug Discovery and/or target identification.
Efficacy Assays:
Angiogenesis inhibition assay
CNS-Neurodegenerative diseases: Alzheimer, Parkinson, Epilepsy, circadian rhythm alterations…
Rare Diseases: Amyotrophic Lateral Sclerosis, Duchenne Muscular Dystrophy, Dravet Syndrome…
Target Validation
Disease Model Generation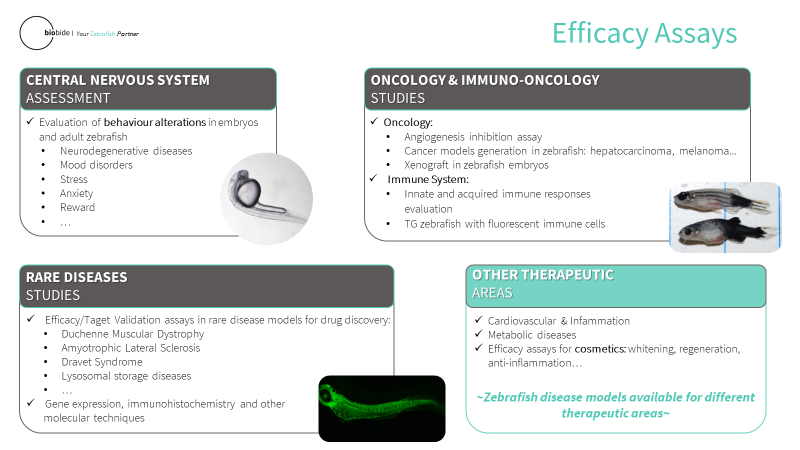 Thanks to its wide experience and know-how, Biobide has the ability to generate or acquire through MTA transgenic or mutant zebrafish models of diseases obtained through different techniques such as genetic mutations, transgenic induce gene alterations or drug induced metabolic alterations.
Several neurodegenerative and neuromuscular rare disease zebrafish models have been generated for target validation as well as for screening of potential drugs.
At Biobide, we have set up efficacy studies for the different rare neurodegenerative/neuromuscular diseases, such as:
Parkinson's Disease
Alzheimer's Disease
Epilepsy
Amyotrophic Lateral Sclerosis (ALS)
Duchenne Muscular Dystrophy (DMD)
Dravet Syndrome (DS)
---
Check out the latest news in the industry: Subscribe to our Newsletter and sign up to one of our upcoming Webinars
Disclaimer
Edelweiss Connect GmbH is registered as a limited company with Handelsregisteramt of Kanton Basel-Stadt Swiss ID (UID) number: CHE-114.414.615