Neurotoxicity
Neurotoxicity risk assessment is essential to provide solutions with which the impact of products on neuronal functions throughout the life cycle can be prohibited. With our neurotoxicity solution package, you can characterize your compounds for concerns of their potential of being a neurotoxin.
---
Category
Request further information
About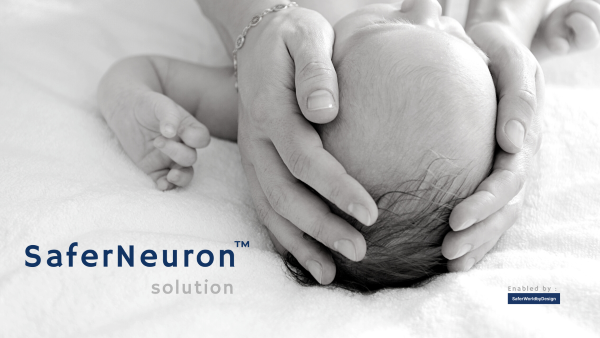 Neuronal health and neuroprotection are key for preventing the development of neuronal diseases. One major concern of neuronal dysfunction lies in the uptake of substances and chemicals throughout life, which can impact normal neuronal cell function and lead to acute or chronic toxicity. Especially with the fast advances in technology where regulatory guidelines are still missing, new approach methods are valuable in evaluating chemicals and nanoforms, which can reach the central nervous system where they might induce the activation of toxic effects. Integration of such evidence can support the risk assessment of products to avoid neurotoxicity. Nevertheless, until now risk assessment in this field has been challenging since the molecular pathways that lead to neurotoxicity, with which one could characterize compounds by key event assays, are still not fully understood. To face this challenge, we collaborate with partners not only to reveal new possibilities for assays based on new findings in research but to also bring together the existing knowledge as best as possible and to use it with the newest computational tools to ensure the most effective neurotoxicity prediction and assessment.
Our services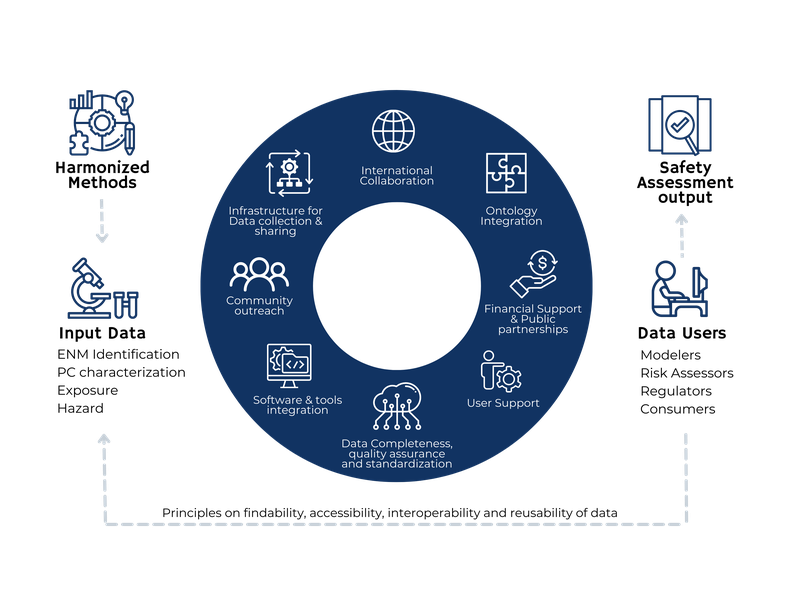 Figure1: Advanced tools for the safety of nanomaterials - Adapted from EFSA Guidance.
Our neurotoxicity solution package includes data analysis, modelling and in vitro testing supporting the evaluation of neurotoxicity and exposure concerns for products and their risk assessment from early stages in development throughout the life cycle. Such concerns are important in drug development, selection of cosmetic and food ingredients, and design of advanced materials and formulations including textiles, nanomaterials, agrochemical and biotech products.
In silico strategy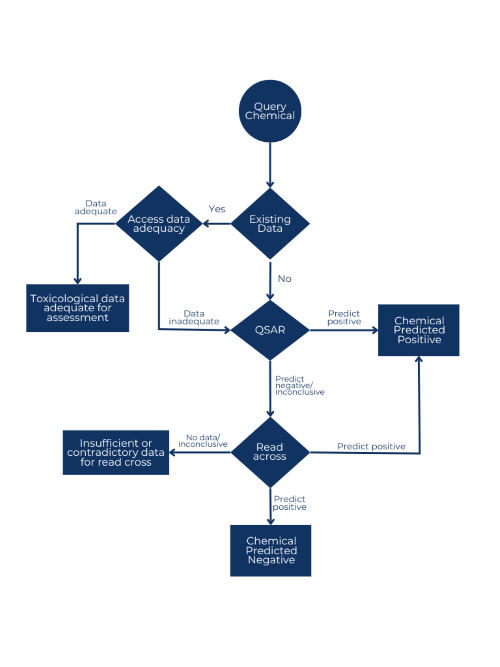 For risk assessment we follow a tiered in silico strategy. Our first tier in silico approach thereby collects a broad range of already existing data and knowledge which is used to characterize new compounds due to specific chemical or biological features, integrates it with properties of known compounds and calculates their impact on neuronal mechanisms. This artificial intelligence approach allows to model the prediction of a single compound or a set of compounds as neurotoxic or non-toxic and to calculate whether there are specific concerns of the impact on neuronal development and function in organisms. Concerns and uncertainties can be subsequently addressed in lower tier testing strategies.
Our in silico approach is based on the following solutions:
In silico modeling
Our in silico modelling and in vitro testing workflows are anchored to key events of Adverse Outcome Pathways (AOPs).
We can apply a variety of algorithms and machine learning techniques to SaferNeuron™ datasets supporting the building of reference and customised models.
AI/Machine Learning
We have leading expertise in developing and validating QSAR models.
We apply our machine learning expertise to the development of models in SaferNeuron™ applications including customised versions for customers.
Our AI team has competency in extracting targeted knowledge from information collections (documents, abstracts etc.) and organising it as structured information e.g., available to applications from a customised EdelweissData™ instance.
Data Management
Our EdelweissData™ approach to data management organises all data within our system using best data practices and standards.
All metadata and data is harmonised and aims for completeness and integrity.
Data processing workflows are organised as reproducible in silico protocols with instances stored within the system for future reference.
All in silico and in vitro protocols are fully described and stored in the system.
Secure customer data management solutions can be provided through premium customer accounts on a secure cloud.
Relevant Case Studies
We coordinate case studies against a provided problem formulation to provide the required evidence required for a decision or to reduce the uncertainty or improve the quality of an assessment.
Case studies may also involve the improvement of predictive models, integrated approaches to testing and assessment (IATAs) or the application of tiered strategies to develop safer, greener products. Developmental neurotoxicity is a current active case study area on RISKHUNT3R supporting development of IATAs supporting next generation risk assessment.
Cutting Edge Science
Since there is a lack of knowledge of biological mechanisms that lead to neuro related impairments, there are challenges to face when characterizing chemicals for neurotoxicity risk assessment. Therefore, we keep up-to-date with newest findings in cutting edge research to develop new assays for neurotoxicity key events to improve the accuracy in our prediction models.
Partner contributions
With our partner contributions we offer newest technologies for neurotoxicity risk assessment, including up-to-date in vitro assays, computational toxicology and Physiological Based PharmacoKinetic modeling and simulation (PBPK) methods, consumer testing, and regulatory toxicology assessments. The partner contributions include:
Biobide Services
Biobide is the brand leader in zebrafish, committed to quality and customer service efficiency. With Biobide we offer:
Target Validation
Disease Model Generation
General Toxicity Assays
Specific Toxicity Assays
Efficacy Assays
Ecotox Assays
BioTalentum
Biotalentum has expertise in the field of human stem-cell based in vitro technology for drug testing and toxicology measurements. Their 3D microtissues and cell cultures provide excellent solutions for supporting predictive, pre-clinical decisions with high confidence. With Biotalentum we offer:
Services: Cellular models for in vitro toxicology, gene engineering and bioinformatics.
Products: human iPSC-derived cell types.
CAAT key areas
The Center for Alternatives to Animal Testing in Europe (CAAT-Europe), housed at the University of Konstanz, coordinates transatlantic activities to promote the development of new and improved methods in toxicology, including:
Consumer protection
New Approach Methodologies
3Rs (Replace, Reduce, Refine)
Toxicological testing strategies and systems toxicology
Information and education on NAMs and 3Rs
RISK-HUNT3R
RISK-HUNT3R is a European Research and Innovation project funded under the European Commission's Horizon 2020 programme to offer RISK assessment of chemicals integrating HUman centric Next generation Testing strategies promoting the 3Rs. With RISK-HUNT3R we offer:
Toolbox for in silico risk assessment supporting IATAs in development neurotoxicity
EdelweissConnect
Edelweiss Connect (EwC) - as the provider of this SaferWorldbyDesign platform - offers the expertise and experience to initiate, coordinate and manage large collaborative research projects, with partners from industry, government, and academia. Our goal is to incubate high-impact products, services, and solutions at the forefront of innovation, with sustainability and responsibility.
Regulatory framework
The field of neurotoxicity is one of emerging regulatory science and guidelines. To guarantee the quality and reliability of our characterization and toxicity models, data and protocol integrity has highest priority in our knowledge infrastructure. Our new approach methods are closely linked to developing regulatory guidelines including those from OECD, EChA, EFSA, FDA and EPA.
EFSA - Scientific report «Application of QSAR analysis in the evaluation of developmental and neurotoxicity effects for the assessment of the toxicological relevance of metabolites and degradates of pesticide active substances for dietary risk assessment, by Andrew Worth, Mojca Furat-Gatnik, Silvia Lapenna and Rositsa Serafimova, 31st May 2011.
EFSA Journal about the Development of Integrated Approaches to Testing and Assessment (IATA) case studies on developmental neurotoxicity (DNT) risk assessment, 21st April 2021.
OECD Guidance on Evaluation of Data from the Developmental Neurotoxicity (DNT) In-Vitro Testing Battery, October 2022.
USA, Environmental Protection Agency, Guidelines for Neurotoxicity Risk Assessment, Federal Register 63(93):26926-26954, 14th May 1998.
WHO, Environmental Health Criteria 223, Neurotoxicity Risk Assessment for Human Health: Principles and Approaches, by Harry G. J., Kulig B., Lotti M., Ray D., Tilson, H. et al., 2001.