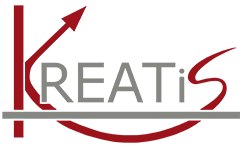 KREATiS
KREATiS Producing High Accuracy QSARs (or HA-QSARs)
---
KREATiS is an in silico research and development company specialising in predictions (High-Accuracy QSARs) of physico-chemical, toxicological and ecotoxicological properties and has created its own brand, "iSafeRat®", which includes a SAR for Mechanisms of toxic Action (MechoA). KREATiS also has experts in in silico consulting using dozens of Third Party models, both freeware and commercial software, to complement the in-house tool and thereby provide a complete set of substance properties for regulatory or R&D use. Thanks to decades of regulatory (eco)toxicological consulting experience within our team, our prediction reports and summaries are prepared mindful of the demanding regulatory obligations. KREATiS staff also provide training of in silico tools to our clients, and we are involved in several multi-partner R&D projects.
iSafeRat® Software
iSafeRat® is a High-Accuracy QSAR (HA-QSAR) modelling suite available in desktop and online versions predicting physico-chemical, ecotoxicological and toxicological properties of organic molecules using chemical structure as the principle input parameter in the form of a SMILES code. The code generates log Kow which in turn predicts water solubility values determined from thousands of in-house validated, quality data. From there the molecule passes through the MechoA scheme, a Molecular Initiating Event based SAR, which is used to decide which HA-QSARs are the most relevant for the test substance. We have currently included 26 MechoA subclasses in our model.
Acute and chronic (where available) ecotoxicity values for single substances and mixtures (WAFs) are predicted for microorganisms, algae, daphnids and fish for ecotoxicity.
For human health, skin and eye irritation, sensitisation (screening) and dermal absorption of single substances are predicted.
Other models within the iSafeRat® modelling suite are 2 endocrine disruption models, a 2D SAR based predominantly on reverse transcription in vitro tests which have been validated in-house by KREATiS and a docking tool called SESAME-3D which determines binding energies from predicted ligand-receptor interactions and compares them to those of the native hormone.
Currently the ED models and dermal absorption model are only available by request to KREATiS and are not integrated in the desktop or online models.
Our aim is to provide models that predict values which are of the same standard as those produced in laboratory experiments and a model does not receive our blessing as a "HA-QSAR" until it has reached this standard. Full regulatory documentation QMRFs/QPRFs are available with all our HA-QSARs.
We are constantly striving to increase the number of applicability domains and HA-QSARs for each MechoA sub-class.
---