SaferSkin™ Application
What is SaferSkin™ skin sensitization app?
Web application used for predicting ingredient's potential to cause skin sensitisation, without animal testing.
The application applying integrated strategies of safety assessment to skin sensitisation.
Combines the top three approaches for accurate predictions of skin sensitisation.
Applies state-of-the-art science to workflows over the entire discovery and development funnel, to regulatory acceptance and registration.

The app can be used for:
Hazard identification, classification, and labeling under the Globally Harmonised System of Classification and Labelling of Chemicals (GHS) scheme (UN 2013).
Quantitative risk assessment (QRA) especially when combined with in vivo evidence on analogs.
Development of an efficient testing strategy, as a decision strategy tool.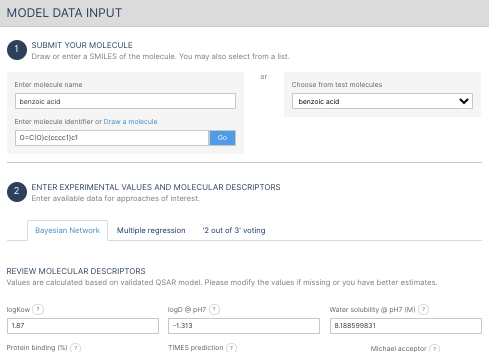 Main features
Comparison of 3 approaches: Bayesian Network, '2 out of 3 weight of evidence', multiple regression
Category prediction with confidence levels
Simple to use interface
Single compound input submission - entered as SMILES or drawn
Physical properties calculated
LLNA pEC3 & EC3 values from 50-90th percentile confidence