Shop
Dermal absorption
Product category:
In vitro assays
In vitro dermal absorption Assay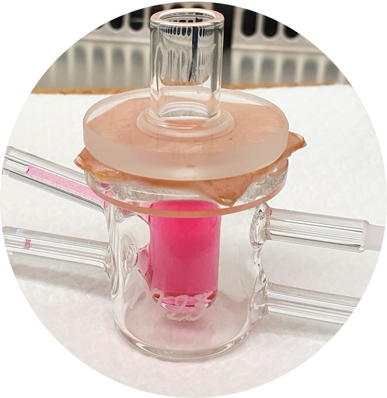 In vitro dermal absorption studies are the gold standard method for skin pharmacokinetic evaluation and are suitable to predict the expected dermal absorption by humans.
The purpose of the dermal absorption testing, also known as dermal penetration or percutaneous penetration, is to provide a measurement of the absorption or penetration of a substance through the skin barrier and into the skin.
Detailed guidance on the performance of in vitro skin absorption studies is available (OECD 2004, 2011, 2019).
Dermal absorption studies are conducted to determine how much of a chemical penetrates the skin, and thereby whether it has the potential to be absorbed into the systemic circulation.
Therefore, knowledge of dermal absorption phenomena is essential for:
Safety issues: the presence of systemic test item may lead to systemic adverse effects, the quantities absorbed is taken into consideration in toxicological risk assessment to extrapolate human exposure and calculate the margin of safety (MoS), and,
Therapeutic aspects: the quantities penetrated can be taken into consideration to predict the therapeutic concentration at the target sites in skin tissue.
Different types of formulations can be assessed through in vitro dermal absorption studies: creams, gels, ointments, suspensions, foam, patches, aqueous, solvent, hair dyes, shampoo, foundation, moisturizer, cleansers, soaps, sunscreen etc.
When conducting in vitro dermal absorption study, skin sample is placed between two chambers (a donor chamber and a receptor chamber) of a Franz-type diffusion cell in a way such that the stratum corneum is facing the donor compartment where the formulation to be examined is applied, while the dermis is touching receptor compartment.
In vitro dermal absorption studies are applied in different sectors and for different purposes:
Formulation Screening: for selection of lead candidate formulation.
Bioequivalence: to determine if the new product has the same degree of dermal absorption as reference product. In vitro dermal absorption assay was recently used to demonstrate bioequivalence, and the results of the comparison were accepted by the FDA in connection with the marketing authorization for Lotrimin Ultra cream.
Cosmetics and consumer products: Dermal absorption rate is part of the toxicological profile of any ingredient. Almost always provided for any submission to the SCCS, the in vitro dermal absorption studies can then be part of the safety assessment of a cosmetic product.
Pharmaceutical products: in vitro dermal absorption studies are part of safety and efficacy assessment of topical products.
Chemical/agrochemical: in vitro dermal absorption studies are an important part of a safety assessment. With respect to pesticides, the results of the in vitro dermal absorption studies alone are accepted for pesticide risk assessment purposes in the European Union and other countries.
---
Check out the latest news in the industry: Subscribe to our Newsletter and sign up to one of our upcoming Webinars
Disclaimer
Edelweiss Connect GmbH is registered as a limited company with Handelsregisteramt of Kanton Basel-Stadt Swiss ID (UID) number: CHE-114.414.615