Data Services
As an integrated service provider and marketplace, we offer all our customers significant added value in data and modelling services.
---
EdelweissData™
Try EdelweissData™
You may wish to consider first a lower cost in silico approach before further testing. Or you may wish to add secure data management, analysis, or modelling to any study order you are interested in enquiring about.
We provide protocols, raw data and processed data with reporting from the CRO laboratory directly to your Web-based SaferWorldbyDesign account.
Example for Prediskin assay.
Example combining chemical similarity search across TG-GATEs, Drug Matrix and Tox21 data.
Try chemical similarity search.
√Hello EdelweissData™. Goodbye copy-paste!
EdelweissData™ is an exciting software solution that offers scientists seamless sharing of data and metadata.
Try EdelweissData™
What is EdelweissData™?
An exciting software solution that offers scientists seamless sharing of data and metadata.
EdelweissData™ is a platform that solves your problems with sharing, combining and integrating data. EdelweissData™ prepares, curates, harmonises, standardises and brings together data from different formats, different sources, and different labs.
Our solution is:
cloud-based,
platform independent, and
highly customisable with respect to data formats and workflows.
EdelweissData™ provides applications to support:
importation, harmonisation, annotation and storage of primary data and metadata,
storage in agreement with FAIR data sharing principles,
user-friendly, non-expert level searching and browsing, as well as analysis and visualisation, both interactively and in scripting mode,
options for customisation to address specific project requirements including optimal interplay with other existing and newly developed infrastructure.
EdelweissData™ was developed and is currently used and marketed within the context of predictive toxicology and safety assessment use cases, but can be deployed to solve related issues in adjacent Life Science areas.
Why EdelweissData™?
EdelweissData™ helps you discover valuable data connections from different sources, integrate it with your own data and share the enhanced resource. EdelweissData™ helps you find and annotate the best information that resources in a targeted field have to offer, putting it to best use for your application and user needs.
What EdelweissData™ can do for you
Integrate
Harmonise
Manage
Automatically upload data for improved accuracy
Suggest new directions
Make your science reproducible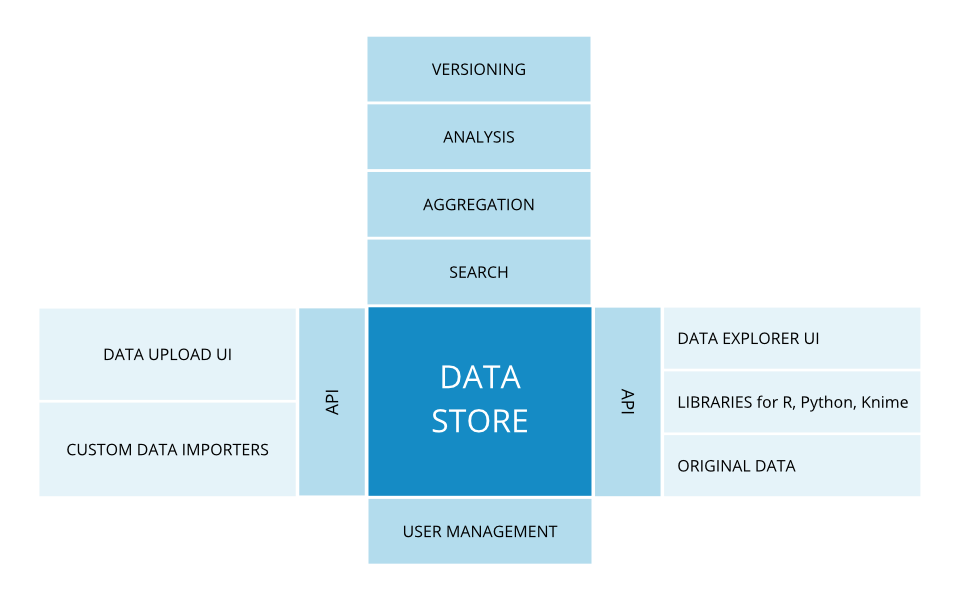 How EdelweissData™ grew from Edelweiss Connect's experience
Edelweiss Connect brings together an unusual combination of experts in data science, life sciences and chemistry. Edelweiss Connect earned its reputation by providing powerful data management solutions to academic and industry partners in such major collaborative projects as:
INTERVALS™: Edelweiss Connect (formerly Douglas Connect) developed the online platform and associated data warehouse of the INTERVALS project initiated by Philip Morris International R&D. INTERVALS™ aims to develop the science for a smoke-free world by sharing protocols, tools and data from assessment studies, thus enabling independent third-party collaboration and data analysis.
EU-ToxRisk: Edelweiss Connect customised EdelweissData™ to respond to the challenges of the large, complex EU-ToxRisk project, an integrated European 'Flagship' programme to drive mechanism-based toxicity testing and risk assessment for the 21st century.
ACEnano: Edelweiss Connect customised EdelweissData™ to provide a knowledge warehouse for the complex protocols, metadata and data required to characterise nanotechnology. ACEnano aims to introduce confidence, adaptability and clarity into nanomaterial risk assessment.
OpenTox: Edelweiss Connect helped create and lead OpenTox, the leading global open platform for predictive toxicology supported by open standards.
NanoCommons: Edelweiss Connect developed a public version of the ACEnano warehouse for nanomaterial characterization as part of the all-encompassing nanosafety data universe created in the H2020 Infrastructures project NanoCommons. By creating a community framework and infrastructure for reproducible science, and in particular, in silico workflows for nanomaterials and beyond, NanoCommons seeks to address the need for nanosafety knowledge management.
It is this extensive domain knowledge that helps us create optimal solutions not only on how to store data, but also on what to store. We developed EdelweissData™ to provide an intuitive experience combining annotation, visualisation and management of data in line with FAIR (Findability, Accessibility, Interoperability, Reusability) data-handling principles.
EdelweissData™ can be used to extend your existing data storage and workflow systems. You don't have to change your current infrastructure - you can extend it to include other evidence.
Based on our experience, we understand the different needs of scientists in data management and integration. We work closely as a group of scientists, technologists and data scientists organising the data to support the downstream analysis and use cases putting the data into action.
What are your needs?
Based on your requirements and the personalised set-up of EdelweissData™ that is deployed, you could enjoy the following features and benefits.
Life Sciences data management
A comprehen­sive tabular data and metadata environment
Supports annotation, organisation and storage of primary data and metadata
Provides domain data types (e.g. understand chemical's SMILES)
Facilitates the analysis, visualisation and sharing of data
Provides interactive exploration of the data via web-based tools
Implements the FAIR data principles of Findability, Accessibility, Interoperability and Reusability.
Allows the upload of data directly onto a secure, cloud-based platform
Provides harmonised and interoperable access to different knowledge sources including publicly available databases
Provides a rich application programming interface (API)
Helps creating a culture of data sharing by making sharing easy
Replace manual error-prone, time consuming and costly processes with lean data solutions and processing workflows.
Deployment and user experience
Simple and functional
Cloud-based or deployed in-house
Hides the complexity of managing the database
Accessible from PCs, tablets and smartphones
Suitable for diverse local and virtual teams of expert and non-expert users alike
Designed to build on top of and integrate with the existing data storage systems and data workflows, rather than replacing them (but could work standalone if needed)
Capable of integrating with data-producing hardware such as analytical instruments, pre-existing locally stored data, and data sources available on the internet
Provides flexible data access policies across tools, APIs, users and groups
In vitro assays
SaferWorlbyDesign provides In vitro testing/assays on compounds and formulations for the cosmetics, pharma, medical device, chemical, and food industries.
More
Tests and Services
SaferWorldbyDesign integrates in silico and in vitro methods to develop standard and premium Integrated Approaches to Testing and Assessment (IATAs), including methods that support ingredient and formulation screening and testing, product design and the preparation of Regulatory Dossiers.
More
Tissues and Fluids
Human skin samples, offered in our shop, are collected from patients who have undergone cosmetic surgery. We also offer additional services.
More